Folien und Fotos vom Brennstoffzellentag zum Download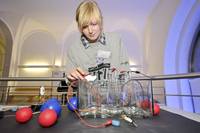 The slides of Prof. Strasser "Brennstoffzellen - Energiewandler der Zukunft" can be downloaded here (PDF, 2 MB).
The slides of Dr. Oliver Lenz "Wasserstoff aus Bakterien und Algen: Eine Perspektive für die Zukunft?" are devided into part 1 (PDF, 1.8 MB) and part 2 (PDF 1.6 MB).
Photogallery of Fuel Cell Day: Impressionen vom Brennstoffzellentag.
---