A new Einstein Circle for UniCat Junior Research Group leader Ralph Kraehnert.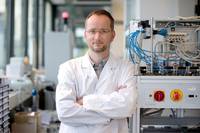 The Einstein Foundation Berlin has granted an Einstein Circle surrounding UniCat Junior Research Group leader Dr. Ralph Kraehnert of the Department of Chemistry at the TU Berlin. The Einstein Circle will research possible ways of converting solar energy or electrical energy into fuel or to convert stored chemical energy back into electricity. Especially materials with nanostructures promise significant improvements in energy storage and conversion and are therefore in the focus of the Einstein Circle "Nanostructures for Energy Conversion".
This newly granted Einstein Circle consists of researchers from the three large Berlin Universities, the Helmholtz Center Berlin, the Federal Institute for Materials Research and Testing, the Fritz Haber Institute, as well as the company Creative Quantum GmbH.
An Einstein Circle offers researchers in Berlin the opportunity to participate in Berlin-wide, theme-based collaborations across institutions which they organize themselves. It will spend a maximum of three years focusing on a specific topic. The collaboration should aim at producing concrete results at the end of this period, e.g. joint publications. An Einstein Circle may invite selected researchers from outside of Berlin to join in order to integrate excellent young researchers from other parts of Germany and abroad into the scientific community in Berlin.
The Einstein Foundation Berlin was founded in 2009 by the State of Berlin. The Foundation aims to promote science and research of top international caliber in Berlin and to establish the city as a center of scientific excellence. In addition to its endowment, the Foundation also receives state funding. An independent scientific commission of the highest standard selects projects for funding.
---