UniCat applies for excellence funding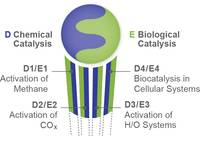 The Berlin-Brandenburg Cluster of Excellence "Unifying Concepts in Catalysis" (UniCat) hopes to continue its successful work beyond 2012. To enable them to do so, the researchers from the Cluster have applied for funding from the Excellence Initiative set up by the federal and state governments and administered by the German Research Foundation (DFG) in Bonn. The application was made on schedule on September 1st and was for a total of €33 million over a five-year period.
The review by the DFG of the application is to take place on February 23rd 2012 in Bonn. During the review session, the researchers based in the Cluster will present their achievements to date and their plans for the second funding period. The new, focused research programme is based on two research areas: chemical and biological catalysis.
"The projects in the two areas are divided among four interlinked research partnerships that use the same or similar processes in chemical and biological catalysis," explains UniCat chair Prof. Matthias Driess.
Three Research Bands are working on finding the mechanism of activation of small molecules, e.g. methane gas, carbon dioxide, hydrogen or water. By doing this they hope to understand processes that are extremely important in nature and technology. The fourth Research Band is working on examining enzyme complexes that can be used among other things in the production of antibiotics, leading to new possibilities for their use in medicine.
The DFG will announce its funding decision on June 15th 2012. However, the Berlin researchers are already thinking beyond this second funding period, which begins on November 1st 2012 and ends in October 2017.
"The sustainability of the work that we are doing here at UniCat towards integrated research in catalysis must be assured in a variety of ways," emphasises Prof. Driess. This includes the provision of multi-disciplinary training for young scientists through a Master's Programme involving a spectrum of different universities and federal states, and through the programmes offered by the UniCat Graduate School Big-NSE (Berlin International Graduate School for Natural Science and Engineering).
In addition, we have a national and international network of strategic partners. As part of this, a new joint laboratory is in planning for the TU campus that will involve partners from industry. Its aim is to make it easier to apply the results of scientific research in practice.
"Unifying Concepts in Catalysis" (UniCat) is the sole Cluster of Excellence researching the economically important field of catalysis. More than 250 chemists, physicists, biologists and engineers from four universities and two Max Planck research institutes from Berlin and Potsdam are involved in this interdisciplinary research network. The Cluster is hosted by the Technische Universität Berlin. The subject areas covered range from the chemical conversion of natural and biogas, the activation of carbon dioxide and the creation of hydrogen from light and water, to the synthesis of active ingredients using enzymes.
---