Publication Award Fluorine Chemistry for Nediljko Budisa
14 September 2017
Photo © private. Awarding the Flourine Award 2017 (from left to right): Peer Kirsch, Nediljko Budisa, Bert Hoge, and Beate Koksch.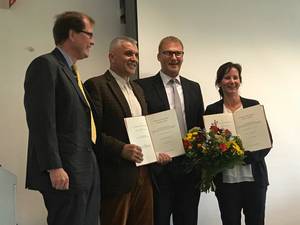 The section fluorine chemistry of the Gesellschaft Deutscher Chemiker (GDCh) has awarded the Publication Award Fluorine Chemistry on 13th September 2017 during the one week meeting GDCh Science Forum Chemistry in Berlin. The awardees are UniCat professor Dr. Nediljko Budisa from TU Berlin and professor Dr. Beate Koksch from FU Berlin.
Nediljko Budisa receives the award for his publication on the topic "Discovery and Investigation of Natural Editing Function against Artificial Amino Acids in Protein Translation" on which he gave a talk afterwards.
Prof. Dr. Berthold Hoge from Bielefeld University and Prof. Dr. Peer Kirsch from Merck KGaA presented the 1.000 € valued prize, which was donated by Merck KGaA.
The Publication Award Fluorine Chemistry has been awarded biennally since 2011. Previous awardees were Prof. Dr. Dieter Lentz, Prof. Dr. Sebastian Hasenstab-Riedel, as well as UniCat professor. Dr. Thomas Braun. The next awarding is planned for 2019.