Fresh from the press: Biosensors and Nanotechnology
22 September 2017
The National Academy of Sciences Leopoldina awarded bio-physicist and UniCat professor Peter Hegemann the Mendel medal. Thus, Leopoldina is honoring the researcher's extraordinary scientific work in the field of optogenetics. The Mendel medal was presented at the opening ceremony of Leopoldina's annual meeting on Friday, September 22, 2017 in Halle (Saale).
Prof. Dr. Peter Hegemann © Thomas Meinicke for Leopoldina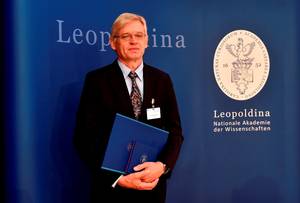 Prof. Dr. Jörg Hacker, President of Leopoldina, Prof. Dr. Peter Hegemann, and Prof. Dr. Jutta Schnitzer-Ungefug, Secretary General of Leopoldina © Thomas Meinicke for Leopoldina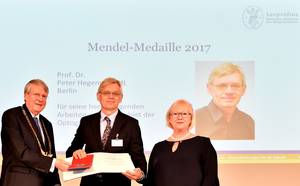 Prof. Dr. Peter Hegemann (born in 1954) is one of the fathers of the new field of optogenetics, a combination of methods in optics and genetics. This novel technology allows insights into the workings of cells with the use of light.
For many years Peter Hegemann studied how algae Chlamydomonas orient themselves in light. He postulated light-driven ion channels as photo receptors, which he molecularly defined and named Channelrhodopsins in cooperation with Georg Nagel and Ernst Bamberg. The light-sensitive proteins form channels in the cell membrane that allow the transport of ions. If these proteins are inserted into the cell membrane, the cell is deliberately controllable.
This is how Channelrhodopsins became the major key component in the field of optogenetics. Today, they are used by scientists worldwide to understand neural circuits in cell cultures, brain layers or live animals with the help of optical technology. New insights on the treatment of neurological diseases, e.g. epilepsy or Parkinson's disease can be won in this way. The scientific journal nature honored this method as "Method of the Year" in 2010.
Peter Hegemann studied chemistry in his home town Münster and in Munich where he was awarded his PhD in biochemistry in 1984. He then left for the USA and post-doctoral work at the University of Syracuse, New York. Upon return to Germany in 1986 he became a research group leader at the Max-Planck Institute for Biochemistry and took up a professorship in biochemistry at the University of Regensburg. Since 2004, he has held the position of Professor of Experimental Biophysics at the Humboldt University, Berlin. Since 2012 Peter Hegemann has been working as guest scientist at the Howard Hughes Medical Institute, Janelia Research Campus, Ashburn (USA). In 2015 he took up the Hertie-Senior-Research Professorship for Neuroscience. Peter Hegemann is a member of the German National Academy of Sciences, Leopoldina.
Medel Medal
The Leopoldina awards this medal for pioneering achievements in the fields of genetics and general or molecular biology. The Academy Senate decided to institute the medal in 1965 to honor the natural scientist and "father of genetics" Gregor Mendel (1822-1884). Max Delbrück, one of the founders of molecular biology, was the first person to win the award in 1967.