Elsevier and Journal of Catalysis have announced that Professor Joachim Sauer, UniCat Coordinator of Research Field D1, has joined Professors Johannes Lercher, Christophe Copéret, Graham Hutchings, Matthew Neurock, Hans Niemantsverdriet, S. Ted Oyama and Fabio Ribeiro as Editor of Journal of Catalysis.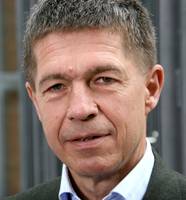 Professor Johannes Lercher, Editor-in-Chief of the Journal of Catalysis said, "I am delighted that Professor Sauer has joined our team of editors. He has made seminal contributions not only to the development of methods enabling the management of complex catalytic systems efficiently, and with high accuracy, but also with respect to insights into zeolite catalysis and selective oxidation. His expertise will help us deepen and broaden the impact of theory published in the Journal of Catalysis."
Dr. Lily Khidr, Elsevier Publisher of Journal of Catalysis said, "I was honoured to first meet Professor Sauer last year in Japan when he found me to specifically discuss the handling of a paper in the journal. His passion for science was clearly palpable, but it was his rigor, attention to detail and broad vision that would make for an excellent Editor who could not only attract the best papers in-class, but help shape them. We are excited to have him on the team."
Journal of Catalysis, published since 1962, is a flagship scholarly publication in the field of catalysis whose international editorial board is headed by Editor-in-Chief Professor Johannes Lercher of the Technical University of Munich, Germany. The journal publishes upward of 300 papers each year and its current Impact Factor is 6.073, making it the 4th ranking journal in the ISI category Engineering, Chemical.
Professor Sauer received the Dr. rer. nat. degree in Chemistry from Humboldt University in Berlin in 1974, and the Dr. sc. nat. degree from the Academy of Sciences (Central Institute of Physical Chemistry in Berlin) in 1985. Since 1993 he is Professor of Physical and Theoretical Chemistry at the Humboldt University in Berlin, and since 2006 external member of the Fritz Haber Institute in Berlin (Max Planck Society). He is member of the Berlin Brandenburg (formerly Prussian) Academy of Sciences, the German National Academy Leopoldina, and the Academia Europaea.
Professor Sauer has published more than 300 research papers, notably in the area of modelling the structure and reactivity of zeolites and transition metal oxide catalysts, and he has given more than 330 invited lectures.
---