Award Ceremony of the Clara Immerwahr Award 2014
Friday, February 21th, 2014 at 4.00 pm.
TU Berlin, Atrium (Lichthof), Straße des 17. Juni 135, 10623 Berlin


Opening remarks

Dr. G. Wendorf, Vice President of TU Berlin

Greeting remarks
Luis de Almeida Sampaio, Ambassador of
Portugal to Germany
Welcome speech
Prof. Dr. M. Driess, Chair of UniCat
Laudatio

Prof. Dr. S. Leimkühler, Universität Potsdam

Bestowal of the Clara Immerwahr Award

Lecture

Dr. Teresa Santos-Silva, NOVA University of Lisbon, Clara Immerwahr Awardee 2014

"X-ray Crystallography for the Characterisation of Molybdenum Proteins"

Guest Lecture

Prof. Dr. Linda H. Doerrer, Boston University

"The Magic Roles of Metal and Ligand for Selective Oxygenations"
Guests are cordially invited.
The ceremony and lectures are followed by a reception at the Atrium (Lichthof), that will begin at approximately 6:00 pm.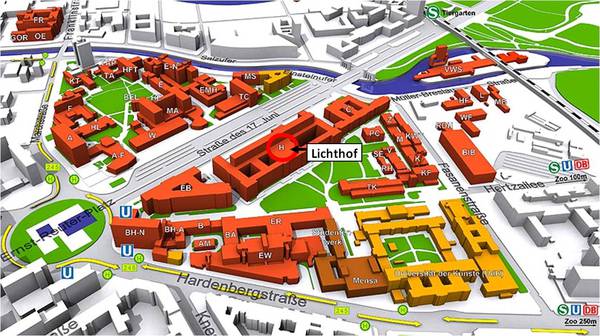 The Clara Immerwahr Award 2014 was sponsored by