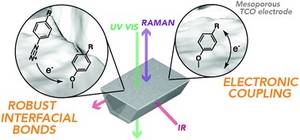 Derivatized diazonium linkers were electrografted onto transparent conductive oxides as stable alternatives to conventional anchoring groups for the surface immobilisation of molecular species which are relevant as electrocatalysts or photosensitisers. The interface formation, structure and stability was investigated i.a. with surface sensitive in situ ATR-IR spectroscopy, in combination with (spectro)electrochemistry.
Thereby, an extraordinary stability was demonstrated in a wide pH range between 2.5 – 12 and a wide electrochemical potential window (-0.73 to 2.23 V vs. RHE in aqueous media).
Furthermore, a high surface coverage was achieved with this electrografting approach for Fe porphyrin molecules active for the oxygen reduction reaction. Fast electron transfer and excellent electrochemical accessibility were demonstrated.


Original publication
Robust electrografted interfaces on metal oxides for electrocatalysis – an in situ spectroelectrochemical study
Tomos G. A. A. Harris, Robert Götz, Pierre Wrzolek, Victoria Davis, Caroline E. Knapp, Khoa Ly, Peter Hildebrandt, Matthias Schwalbe, Inez M. Weidinger, Ingo Zebger and Anna Fischer
J. Mater. Chem. A, 2018, 6, 15200-15212 | DOI: 10.1039/C8TA02983K