Clara Immerwahr Award: Call for applications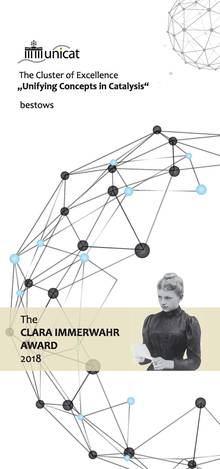 Application documents
We expect applications of postgraduate female researchers with no restrictions to nationality or home institution who are not older than 40 years.
The application must include:
1 application letter,
1 tabular curriculum vitae,
1 letter containing a one page summary of the candidate's achievements,
1 project description (max. 2 pages) including specific aims of the research stay at UniCat
1 publication list,
3 published papers (PDF files )
2 letters of recommendation.
The application and all submitted documents must be in English.

Please send your application letter by regular mail together with one hard copy of all the requested documents (one-sided print) to the following address:


Technische Universität Berlin
UniCat Office, Sek. BEL 4
Strasse des 17. Juni 135
10623 Berlin


Do not use staples and put the hard copies of your documents in the order listed above. (The documents you submit will not be returned after the end of the evaluation process.)
In addition, please send all documents as PDF-files by email to
unicat(at)tu-berlin.de.
Application deadline: October 31, 2017
After the application deadline it is not possible to change or add anything. Incomplete applications will be rejected.