Gerhard Ertl Lecture 2015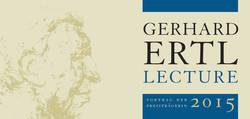 Professor Maki Kawai

Department of Advanced Materials Science
The University of Tokyo, Japan
is this year's winner of the Gerhard Ertl Lecture.


LECTURE
Professor Maki Kawai
Title: "Electron dynamics of molecules at surfaces"


Friday, December 4, 2015 at 4:00 pm
Harnack House - Hahn Lecture Hall
Ihnestr. 16-20
14195 Berlin-Dahlem

The lecture will be followed by a reception in the "Planck-Lobby" of the building.