BIG-NSE – UniCat's graduate school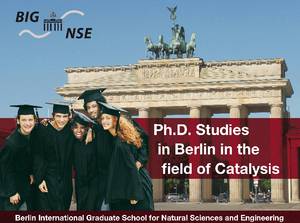 The Berlin International Graduate School of Natural Sciences and Engineering (BIG-NSE) is part of UniCat and was founded in 2007 at the Technische Universität Berlin.
The high-level research in catalysis undertaken within the Graduate School covers a broad range of topics, from natural sciences to engineering. The success of this research program, which is unique in Germany, requires highly-qualified, motivated young researchers for different projects. To this end, the BIG-NSE offers a structured curriculum for obtaining a doctorate within three years.
Curriculum
Students admitted to the School first pass through an "Initial Phase", usually of three months, to integrate the different branches of science and engineering and establish a common scientific language.
The students not only attend the same lectures and courses, but also work together in the same offices during this Initial Phase. For integration of the students into the School, each new student will have a mentor from the group of previous students of the School. Each student will prepare a research proposal as a guideline for his/her future mentoring. In a final workshop each student will present his/her project in front of the UniCat Cluster faculty.
Subsequently, the students join their research groups for their individual research project. Annual reports and frequent meetings with their Advisory Committee provide guidelines for the successful continuation of their work. Parallel to their research work, the PhD students attend "Lecture Courses" by members of the UniCat Cluster. The program of the School includes Summer and Winter Schools that are open to external researchers and students to develop new ideas and transfer knowledge to research partners and industry. Training of "soft" skills (e.g. presentations, project management) and excursions to industrial enterprises are offered regularly.
Requirements
The entry requirements for the BIG-NSE are:
A Master's degree or German Diploma in chemistry, biology, physics or engineering.

A Certificate of English Proficiency (TOEFL with a minimum score of 550, or equivalent) for applicants whose native language is neither English nor German.

Two letters of recommendation.
Recruitment
A central part of the BIG-NSE activities is the recruitment of excellent national and international students that meet the highest international standards of qualification. About 20 highly-qualified students will be recruited every year.


The courses of BIG-NSE start on October 1 each year having following deadline:
JANUARY 15: Application for a scholarship funded by BIG-NSE
BIG-NSE (June 2009)