Mozart and Ertl – birthday concert with 1,000 guests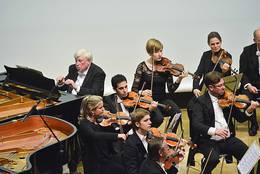 Lasting standing ovations were his reward, as the music faded away and the Nobel Laureate in Chemistry, Gerhard Ertl, rose from the grand piano, exhausted, relieved, and happy in the packed TU auditorium. For his 78th birthday, Gerhard Ertl gave himself and the scientific and musical community a Mozart concert, on 10 October 2014, along with the "Berliner Oratorienchor" and the "Neue Preußische Philharmonie" (New Prussian Philharmonic Orchestra) under the direction of Thomas Henning, UdK Berlin (University of the Arts, Berlin).
"We had actually intended to give you a gift with this concert – instead you have given to us richly," TU President Christian Thomsen, thanked Gerhard Ertl. This unusual musical highlight was organized by the Berlin Cluster of Excellence, UniCat, together with the TU and the UdK Berlin, the TU collaborative research center 910, the Alexander von Humboldt Foundation and the Gerhard Ertl Center for Catalysis Research, with support from BASF SE and the Schering Foundation. A CD of the concert will be available soon.
Source: "TU intern", 13th Oct.2014