The chemistry is right - talks on chemistry and catalysis
Get to know the interesting, curious, entertaining, and colourful world of chemistry and catalysis through seven lectures, both with and without accompanying experiments.
17.00 - What Einstein and Dirac didn't know © TU Berlin / Martin Kaupp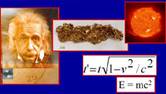 18.00 - Wasserstoff rockt: Das chemische Element der Superlative © TU Berlin / Jacek Ruta

20.00 - Crystal formation at 3,000 °C © TU Berlin / Ulrich Dahl

22:30 - The chemistry of a candle flame © UniCat / Martin Penno

6 out 7 presentations will be conducted in German!
Time
Project Title
17:00-17:45

"What Einstein and Dirac didn't know: on the meaning of the special theory of relativity in chemistry and in everyday life"

The golden colour of jewelry, the Sat Nav in the car and the catalytic converter are just a few examples. Presentation by Prof. Martin Kaupp.

18:00–18:50
"Hydrogen rocks: The chemical element of superlatives"
An entertaining experimental lecture on the production and significance of hydrogen as an energy carrier and as a chemical raw material. Presented by UniCat Professor Dr. Matthias Drieß, for young and old.
19:00–19:30
"How chemistry can contribute to energy transition ('Energiewende')"
Actively participating in shaping the future is a challenge that chemistry must face. The development of new processes, the better use of existing resources, and the implementation of new / sustainable sources of raw materials are leading research areas in this endeavour. Through various examples, Prof. Dr. Michael Schwarze presents the contributions to this path made by the TU Berlin.
20:00–20:45

"Crystal formation at 3,000 °C"

Experience the birth of artificial gems when we show you the only high temperature crystal growth lab in the world! As a souvenir, each participant will receive a crystal shard from a melt that was heated to more than 3,000° C – a temperature at which iron is already in a gaseous state.
21:30–22:00
"Redox reactions - giving and taking in chemistry"
Can gummy bears be dyed blue, and how is electricity generated in the test tube? In a colourful and exciting experimental lecture, Dr. Lars Merkel will demonstrate what happens when electrons are transferred from one atom to another, through the use of simple tools.
22:30–23:00
"The chemistry of a candle flame"
Playing with candles and matches fascinates many people. Yet the chemistry behind these processes is in no sense trivial. Which is the hottest part of the flame? Where does soot come from, and why is the wick bent? A presentation by Dr. Martin Penno on candles, wax and lighters.
23:30–0:00
"The scientist's view to everyday questions"
English Talk
In daily life, we are often facing questions with a scientific background: Is genetically modified food safe? Is the medicament as effective as promised in the advertisement? How to live healthier? Dr. Ying Ma will give you some hints to these questions in her entertaining lecture in plain English.
Location:
House of Chemistry (Haus der Chemie), Lecture Hall C 130

Time:
17:00 to 24:00; duration: 20/30/45 minutes

Children:
For children age 10 and older and for school groups

Type of event:
Demonstration, experiment, presentation

Accessibility:
Weelchair accessible