Piano concert for and with Gerhard Ertl, Nobel Laureate in Chemistry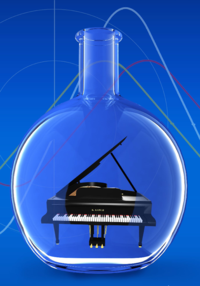 04th September 2014 - Joint press release of UdK Berlin and TU Berlin


Birthday concert "Music meets science – Science meets music" on October 10th, 2014 at TU Berlin
The physical chemist Gerhard Ertl, who was honored in 2007 with the Nobel Prize in Chemistry for his pioneering work in the field of catalysis, is not only a highly respected scientist, but also an avid musician. On the occasion of his birthday, the catalysis Cluster of Excellence UniCat together with the Collaborative Research Center 910, invite you to an extraordinary concert with and for Gerhard Ertl.
The program includes works by Mozart: Misericordias Domini (Köchelverzeichnis KV 222), the Jupiter Symphony (KV 551) and the Piano Concerto No. 7 (KV 242). Mozart composed this concerto for three pianos in 1776 in Salzburg. The third piano part will be played by Gerhard Ertl. The New Prussian Philharmonic and the Berlin Oratorio Choir under the direction of Thomas Hennig from the Berlin University of the Arts will be performing.


Please draw attention to the concert in your media:
Time

:
Friday, 10th October 2014, 20:00

Location:

TU Berlin, Straße des 17. Juni 135, 10623 Berlin, Germany

Audimax (H 0105) in Main Building
All those interested in classical music or science are cordially invited. Admission is free.


Registration is required via registration form.


This musical highlight is a joint project of the Technical University of Berlin, the Berlin Cluster of Excellence UniCat, the Collaborative Research Center 910, the Alexander von Humboldt Foundation, the Berlin University of the Arts, and the Gerhard Ertl Center for Catalysis Research. Financial support from BASF SE and the Schering Foundation is gratefully acknowledged.


For further information please contact:
Dr. Martin Penno, Press Officer of UniCat,
Phone: + 49 30 314-28592, E-Mail: martin.penno(at)tu-berlin.de


All TU Berlin press releases:
www.pressestelle.tu-berlin.de/medieninformationen/


Service for journalists:
Join our press list: www.tu-berlin.de/?id=1888
Events: www.tu-berlin.de/?id=115296
Research topics: www.tu-berlin.de/?id=113453
TU Berlin on Twitter: www.twitter.com/TUBerlin_PR
TU Berlin on YouTube: www.youtube.com/tuberlintv