Scientific Advisory Board (SAB)
The members of the Scientific Advisory Board are high-ranking German and international scientists from academia and industry. The board evaluates the status, structure and focus of the Cluster and gives scientific and strategic advice. The report of the Scientific Advisory Board is presented at the general assembly.
The Scientific Advisory Board was selected by the participating institutions in consensus with the German Research Foundation (DFG), and formally nominated by the President of the TU Berlin.
1st Meeting of Scientific Advisory Board
March 5-6, 2009; at TU Berlin
8 out of 13 members of SAB in March 2009 during first meeting at TU Berlin (from left to right): Prof. Karl Wiegardt, Prof. Gabor A. Somorjai, Prof. Ann Walker, Prof. Alexis T. Bell, Prof. Hansjörg Grützmacher, Prof. Gerhart Eigenberger, Prof. Sir John M. Thomas, Prof. Paul I. Barton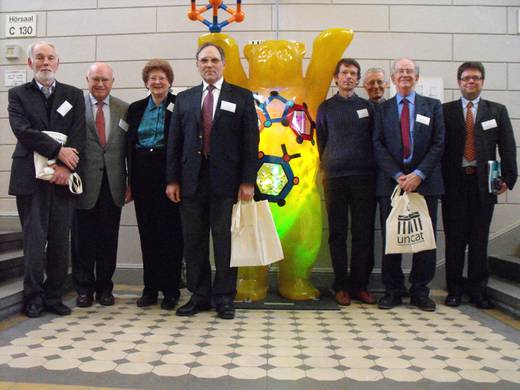 Prof. Karl Wieghardt of the Max Planck Institute for Bioinorganic Chemistry at Mühlheim, Germany, was Chairman from March 2009 until October 2012.